Welcome to Kick Marketing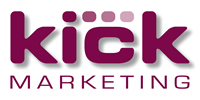 *A list of our Latest Clients is now available*
Kick Marketing is here to help businesses achieve marketing and social media objectives.  Whether it's being visible online, keeping ahead of the competition, growing business, developing a new market, or increasing your revenues, we create bespoke marketing and social media strategies. We will work with you to assist your business.
Marketing is as important now as it ever was, if not more so in the current economic climate. We can look at your marketing strategy as a whole, and develop your marketing plan so it furthers your business objectives. Whether you need strategic help, or an extra pair of hands to roll out tactics, we can help.
We're sure you've heard that things are moving very quickly in social media, and will continue to do so. As social media is here to stay, we will help you become visible and active on the right social media platform. It can be daunting to know where to start, let alone finding the time to begin and remaining fully active.
We offer packages to suit any business achieve its marketing, including social media ambitions. We will work with you to plan the best route to increase your profits and higher turnover. So get in touch and we can work out what suits you.  We're based just outside of Thame, Oxfordshire, but are very happy to travel, and are often in Oxford and Buckinghamshire.
encounter . connect . convert